At Hexo Electrical Testing we offer a full consumer unit replacement service for domestic properties in and around London. See here for our commercial Distribution Board service.
What is a consumer unit?
A consumer unit is sometimes known as a fuse box, fuse board or distribution board.  They are installed in domestic premises and are important in providing control, distribution and protection to the various final circuits within the installation.
Reliable Service with 100% Satisfaction
Sarah Boyes
15. July, 2022.
Very quick service through the website, the electrician came to inspect our flat the very same day - and I especially like the phone-call to let us know what time he would arrive. Service was professional and he explained everything to us before he left. There was a slight snag with the next-day certificate but this was cleared up for the following day by the friendly man on the phone. Would recommend.
sergiu-mihai bob
14. July, 2022.
Great customer service! The engineer was very helpful and they did all works as scheduled. Highly recommended! Sergiu | SMOKESTAK
Daidi Droch
14. July, 2022.
Hexo carried out an EICR on my house and were very professional and reasonably priced. As a result i commissioned them to carry out the identified remedial work and again i was very please by the quality of service. Big thanks to the back office for arranging everything.
Zein Jaber
11. July, 2022.
Great service! Very efficient and professional.
George Hudson
10. July, 2022.
Great service for an EICR - Hexo were able to schedule us in quickly and at a very reasonable price relative to other quotes we'd had. On the day, the engineer was professional, courteous and explained thoroughly the results of the report, which we received promptly by email. Would recommend to anyone needing electrical testing.
Matthew Cooke
10. July, 2022.
Hexo Electrical recently completed an EICR and carried out some remedial works in my rented flat. The testing was thorough, they were honest about what work was required and what was recommended, but not essential. Hexo Electrical carried out the testing and completed the upgrades quickly and at a very competitive price and I was very pleased with the service provided. I'm sure I will use them again.
David Bramall
9. July, 2022.
A great experience right from the start. I needed an urgent EICR as we were selling our house and we didn't have the required paperwork. Very polite staff and a speedy plus reasonably priced service. I would definitely use them again. Thank you.
Matthew Hill
9. July, 2022.
Really impressed by Hexo. They provided surveys both for the house we are selling and the one we are buying. They were prompt, reliable and took the time to explain things clearly and fully. They've since carried out work on our property - the engineer was excellent, worked incredibly hard to get it done on schedule, and took a lot of care to avoid making mess or damaging the decoration. Excellent communication throughout. Very highly recommended.
Great service, good communication and explanations of works to be carried out
What regulations do consumer units have to comply with?
To be able to replace your existing fuse box or consumer unit with a modern 18th edition amendment 2 consumer, your existing installation needs to be up to the minimum required standard. 
As approved consumer unit installers we have a legal (and moral) obligation to leave your installation in a safe condition after installing your consumer unit. If there are faults or defects with your existing installation we either need to fix these problems or not connect the faulty circuits to the new consumer unit. 
Here we outline how the consumer unit installation process works and give some useful information about new consumer units.
What are the requirements for installing a new consumer unit and how does the process work?
The strongly recommended way forward is that we perform an EICR (Electrical Installation Condition Report) before fitting your new consumer unit. The EICR will highlight any defects with the existing installation that would either prevent us installing the new consumer unit or prevent us reconnecting some of your circuits. 
By doing the EICR first we can provide you with a full quotation in advance for fixing the defects so that you are fully aware of all the costs involved.
Required standards for consumer unit installation
For us to be able to fit your new consumer unit the minimum required standard for the existing installation is:
T

he rating and condition of any existing equipment, including that of the distributor, will be adequate.

T

he earthing and bonding arrangements necessary for the safety of the alteration are adequate.

T

he main earthing terminal of the installation is connected to an adequate means of earthing via a suitably sized earthing conductor.

The main protective bonding is adequate.

The meter tails and the distributor's equipment have adequate current-carrying capacity.

The polarity of the incoming supply is correct.

Only final circuits that do not have any C1 or C2 defects can be connected to the new consumer unit.
Rubber or lead cables may not be able to be reconnected to the new consumer unit.
How much does a new consumer unit cost?
The cost of a fitted new consumer unit varies depending on a few factors:
The number of circuits or ways.

The type of consumer unit chosen.

The condition of the existing installation.
Our consumer units start at £390+VAT for a small RCD unit and can rise to over £1500+VAT for the latest AFDD arc detection model.
Please request a quote and we will discuss your options and provide you with a fixed price for your new consumer unit.
Is an EICR recommended before fitting a new consumer unit?
Yes, an EICR is highly recommended before ordering a new consumer unit as it will enable us to check for any faults with the installation in advance, so that you know the cost of rectifying these before you instruct us to install your new consumer unit. 
Our Domestic EICRs start at £110+VAT and you can book a Domestic EICR online here or request a quote if you would like more information beforehand.
What if I don't want to have an EICR before ordering a new consumer unit?
Although we much prefer to carry out an EICR first as it will give a full picture of the existing condition and gives you more clarity over the costs in advance, there is another option available if you really don't want to do an EICR first.
What is a pre-work survey?
We can attend your property and carry out a pre-work survey which is a shorter and cheaper visit than an EICR. 
During this we will only check the items that would prevent us from actually installing the new consumer unit and we will not check or test any final circuits.
The final circuits would be checked and tested when we install the new consumer unit, and if they are faulty/non-compliant then additional costs would need to be agreed at this point and we would fix the problems, or for no additional costs we would not connect the faulty circuits to the new consumer unit.
The cost for a pre-work survey is £70+VAT, please contact us and we will book this in for you.
What different types of consumer units are available?
All consumer units that we install must be compliant with the latest electrical regulations which is BS:7671 18th edition amendment 2. From September 2022 we must install surge protection to your new consumer unit unless you provide a written waiver. All new consumer units are manufactured from non-combustible material.
We use different manufacturers of consumer units on occasion depending on the available space for installation, but usually our domestic consumer units are manufactured by Wylex or Contactum.
There a three main categories of new consumer unit:
Dual RCD protection 

RCBO protection

AFDD – Arc protection
We offer surface mounted or flush mounted options of each as well meter cupboard skeleton style installations.
Dual RCD protection
Dual RCD protection is the cheapest option and provides two RCD units, so if a fault develops on one circuit or a connected appliance then power will be lost to roughly half the circuits in the property.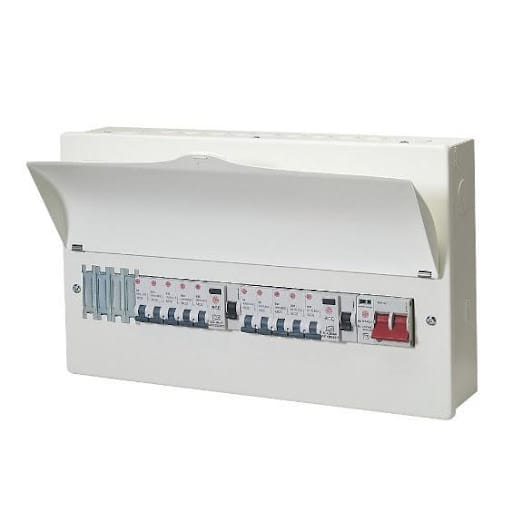 RCBO protection
RCBO protection is the middle-priced option, and it provides a combined RCD/MCB (RCBO) per circuit, so in the event of a fault on one circuit or a connected appliance then power will only be lost to that individual circuit, and the circuits in the rest of the property will remain energised.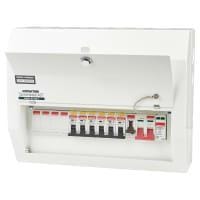 AFDD – Arc protection
AFDD – Arc protection is the premium option and the latest revolution in circuit protection. Arc protection provides RCBO protection so that in the event of a fault power will only be lost to the faulty circuit, but additionally it offers advanced arc protection which detects any electrical arcs and then quickly isolates the circuit. 
Electrical arcs are dangerous and can cause house fires.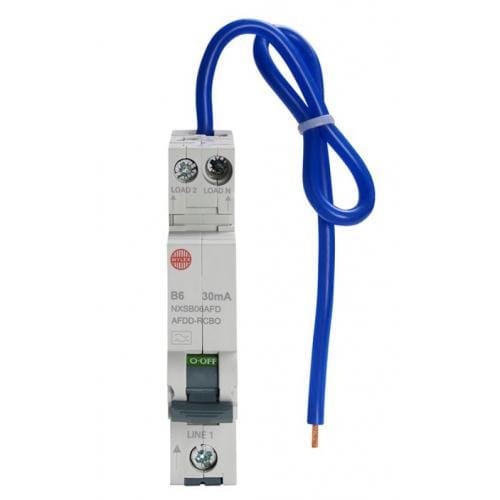 Which fuse boxes and consumer units need replacing and why?
It is not a legal requirement for owner occupied dwellings to have a compliant consumer unit, but it is for landlords.
For owner occupied dwellings It is strongly recommended that any re-wirable fuse style fuse boxes are replaced as they are unlikely to provide RCD protection, likely to have a failed IP rating, and replacing blown fuses is dangerous.
Any consumer units that do not offer full RCD protection are recommended to be replaced for a modern 18th edition unit as this will provide a much greater level of safety for the occupants of the property.
If you are a landlord, then you must have a Satisfactory EICR status for your property and this may involve a replacement consumer unit.
Consumer unit examples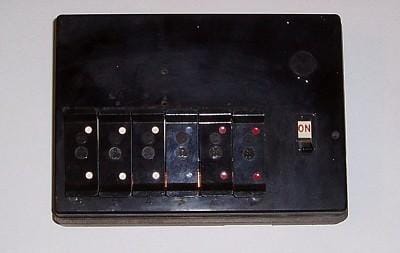 Bakelite re-wirable fuse box with no RCD protection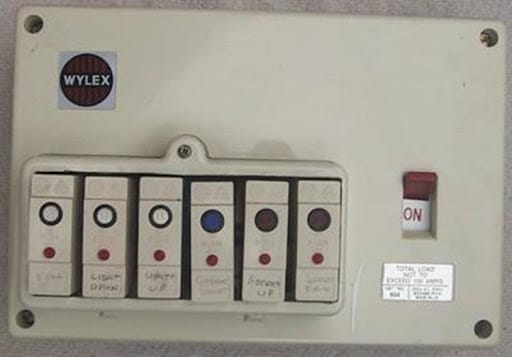 PVC trip fuse box with no RCD protection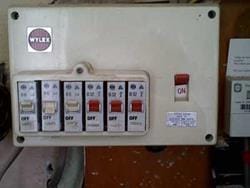 PVC fuse box retrofitted with MCBs and no RCD protection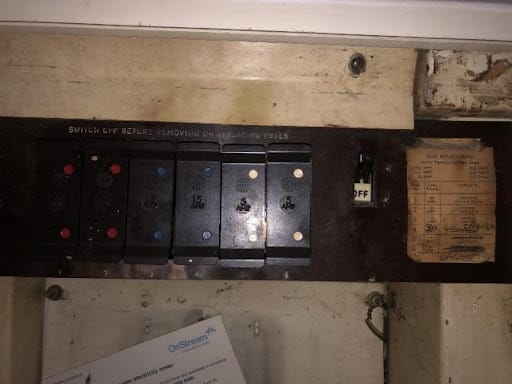 Meter cupboard "skeleton style" rewireable fuse box with no RCD protection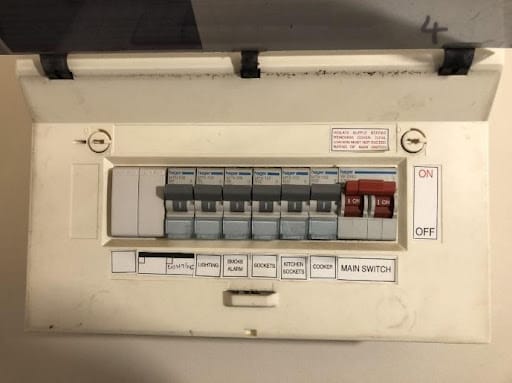 PVC consumer unit with MCB circuit protection and no RCD protection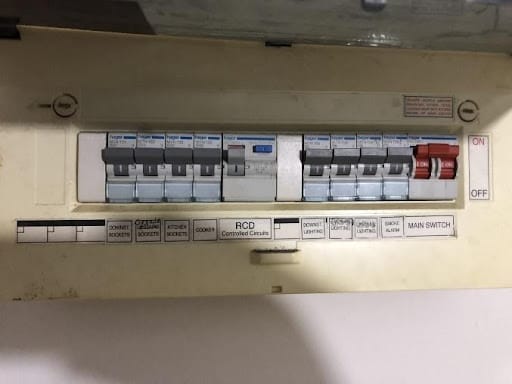 PVC 16th edition consumer unit with partial RCD protection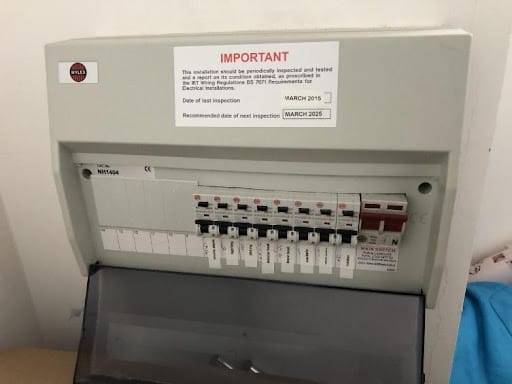 17th edition consumer unit with RCBO protection/Full RCD protection
17th edition consumer unit with Dual RCD protection/Full RCD protection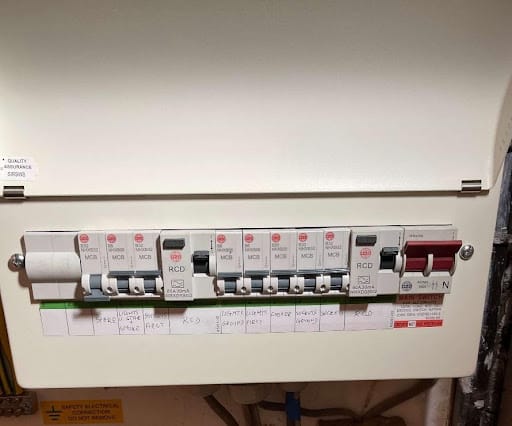 18th edition Dual RCD consumer unit without surge protection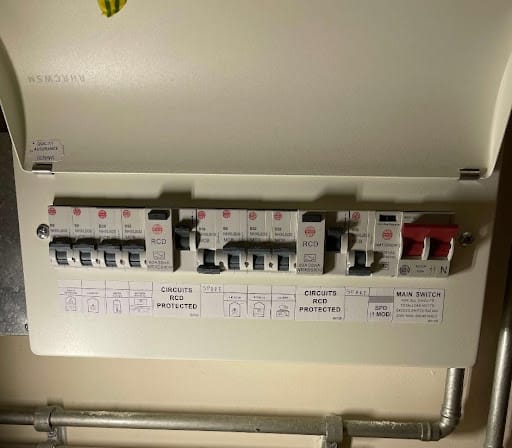 18th edition Dual RCD consumer unit with surge protection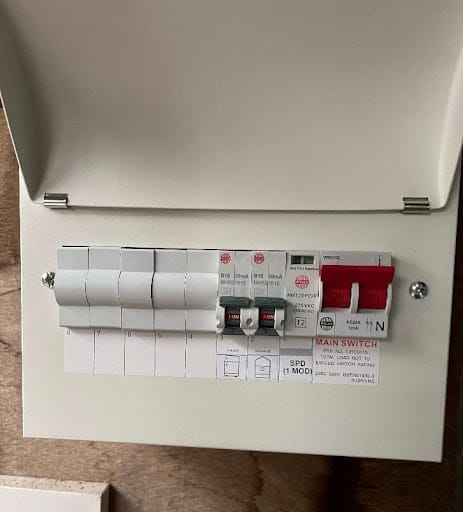 18th edition RCBO consumer unit with surge protection
How long does it take to fit a new consumer unit, and will there be disruption?
The time it takes to fit a new consumer unit depends on how many circuits there are to connect to the new unit, and whether there are electrical items around the siting of the consumer unit that will need relocating to facilitate the installation. 
As a general guide 3-5 hours is the usual time required for consumer unit replacement but this can vary if there is steel conduit or mineral insulated cables present.
Do you need to turn the power off during consumer unit installation?
We usually need to isolate the electricity supply to all circuits in property to install the new consumer unit, so all power will be off for 3-5 hours. This will also result in the internet router being powered down so a personal hotspot may be required for internet use in the meantime.
What certificates will I get with my consumer unit?
We will issue you with an Electrical Installation Certificate for the new consumer unit and any remedial works that we have carried out.
We will notify the local authority of the installation which is legally required under Part P of the building regulations, and we provide you with a copy of the notification.
How long is the warranty on my new consumer unit?
We provide a one-year parts and labour warranty on all new consumer units.
What are the next steps to ordering a new consumer unit?
Please make a booking for a Domestic EICR and then after the visit is complete we will provide you with a complete quotation for the new consumer unit and any other required remedial work. 
Alternatively, if you would like to discuss pricing and consumer unit options then please call or email us.  
0207 315 4151
info@hexoelectricaltesting.co.uk