What is a Periodic Electrical Inspection?
A Periodic Electrical Inspection is also known as a Commercial Electrical Installation Condition Report (EICR), or Fixed Wire Testing. Over time, electrical installations can deteriorate due to wear and tear, so the installation needs regular inspection and testing in accordance with BS7671 to ensure it is safe. The electrical regulations are updated every few years and the inspection and testing process will highlight any regulatory non-conformances with the installation that should be upgraded.
At Hexo Electrical Testing, we specialise in periodic inspection and testing of fixed electrical installations, so we can help you keep your home or business working as it should be. While homeowners aren't required by law to conduct periodic electrical testing,
business owners
and
landlords
are.
Who needs a Periodic Electrical Inspection?
All businesses have a legal requirement to comply with the Electricity at Work Regulations 1989 and a Periodic Electrical Inspection is an important part of that compliance. Additionally, it is usual that a Satisfactory EICR is a requirement of business property insurance.
All landlords in London and England in the private rental sector have a legal requirement to obtain Satisfactory EICR every 5 years, so make sure you're in the know about your obligations.
However, no matter who you are or what type of building you own, it's always good practice to have a periodic test carried out, to avoid accidents, damage or fires.
What is the purpose of a Periodic Electrical Inspection?
A Periodic Electrical Inspection involves a full inspection and test of all the fixed electrical installations in a building. The test will uncover any defects that need remedial work to bring the installation up to a safe standard.
During the periodic electrical inspection, our inspectors will visually check and electrically test all the fixed electrical systems in your property, including:
Mains panels
Distribution boards
Lighting
Sockets and outlets
All fixed wiring
How often is a Periodic Electrical Inspection needed?
When it comes to how often a Periodic Electrical Inspection is needed, this is dictated by BS7671, the electrical regulations. The frequency is based on the type of property, and this is linked to the risk the electrical usage of the property carries.
Periodic Electrical Inspection frequency
As a rule of thumb, a Periodic Electrical Inspection should be carried out:
Annually for swimming pools and other higher risk locations
Every three years for caravan parks and gyms
Every 5 years for lower risk commercial environments such as offices
5 year electrical test for rented homes (landlords and social housing)
Every 5 years for owner-occupied homes (homeowners and property sellers)
For a full list of commercial inspection frequencies please see our Commercial EICR page.
Periodic Electrical Inspection legal requirement
Commercial premises have been legally required to undertake regular Periodic Electrical Inspections (Commercial EICR) since 1989.
However, for landlords, new government regulations kicked in on 1st June 2020 for London and throughout England. These make it mandatory for landlords within the private rented sector to have their electrical installations inspected every five years. This 5-year electrical test legal requirement should not be overlooked or ignored, as to do so comes with a financial penalty of up to £30,000 and would put the tenant's safety at risk.
However, even if you don't legally need to arrange a 5-year electrical check, it's advisable to organise a periodic electrical inspection regularly, and before a property is bought or sold.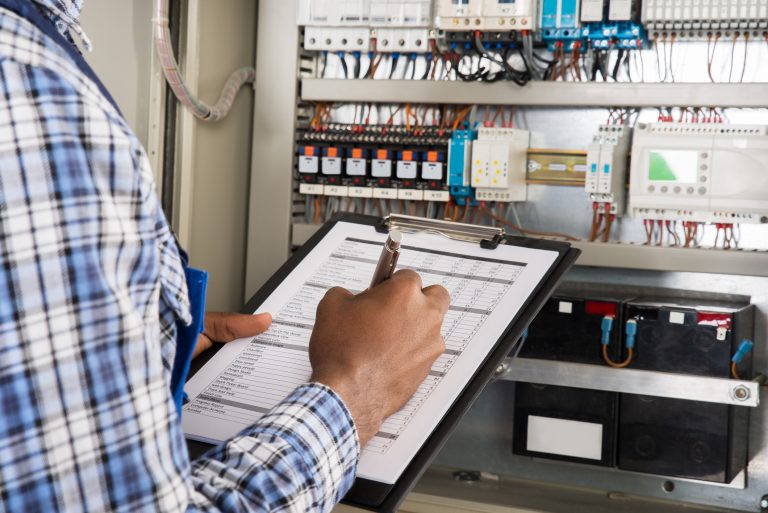 What does Periodic Electrical Testing involve?
If you hire Hexo Electrical Testing for your London electrical testing needs, your Periodic Electrical Inspection will be completed by a fully trained and qualified inspector with a minimum of 10 years' experience.
Our inspectors will visit your site to carry out an electrical wiring inspection at a time that suits you. The electrical installation condition report (EICR) will involve checks of the consumer unit/distribution board, through to the fixed wiring within the walls and the circuit accessories.
Periodic Electrical Testing observation codes
During the EICR inspection, we will identify any defects and provide a coded observation for each. The four observation codes that are used in an electrical safety report are:
Code C1 is the most severe observation code, so fast action is required. There is an immediate threat to the property and the safety of those inside it.

Code C2 means there is a potentially dangerous defect with your system and urgent

remedial works

are required.

Code C3 is a lower-level code, which means 'Improvement Recommended'. This means a regulatory non-compliance has been identified or an element of the electrical installation could do with improving.

Code FI highlights that further investigation is required. Generally, this means our inspector has found something that needs to be looked at in more detail.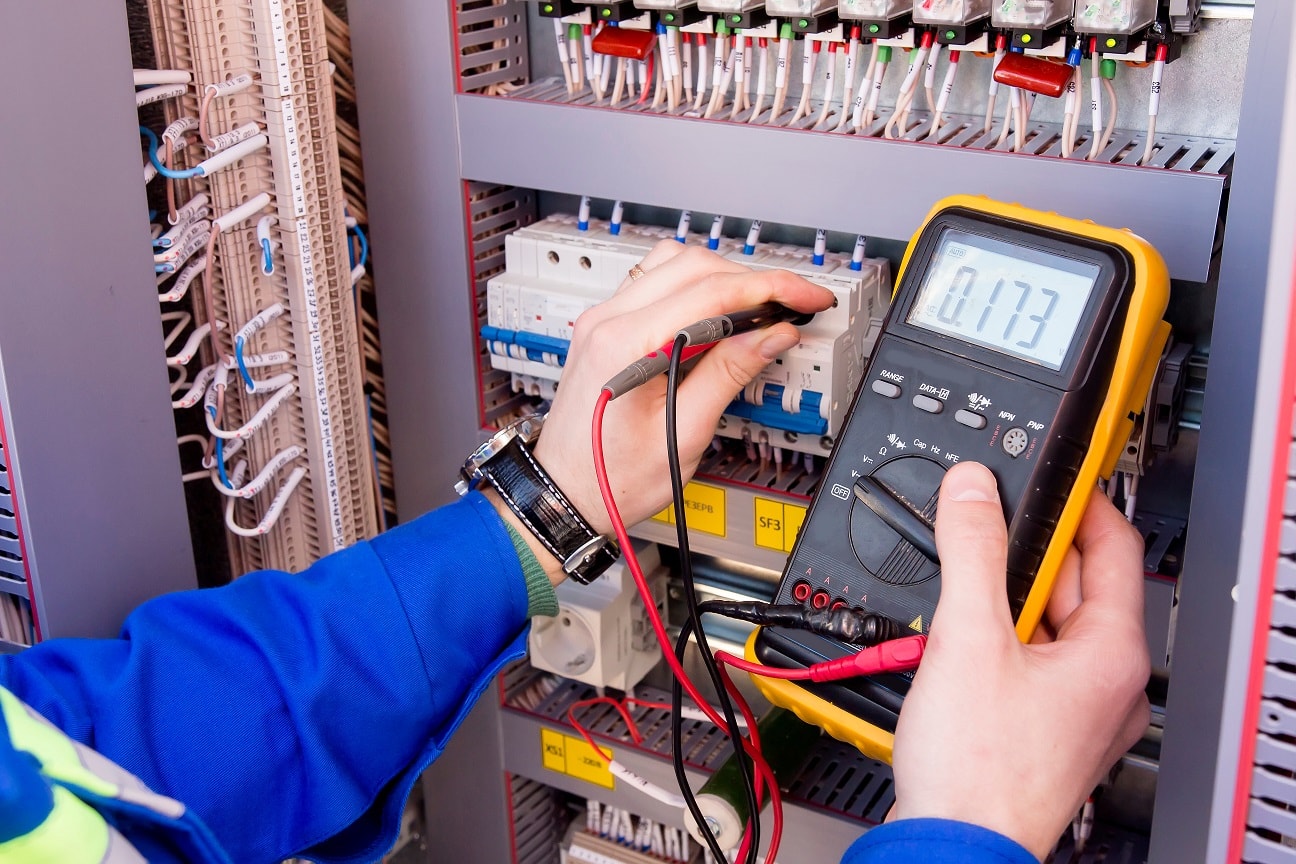 Remedial works after your Periodic Electrical Inspection
If any defects are found during the Periodic Electrical Inspection, we will carry out remedial works as quickly as possible, so you can get your property compliant as soon as possible.
Once your system has been repaired, then we will issue you with an Electrical Installation Certificate (EIC), or a Minor Works Certificate (MW), along with a satisfactory Electrical Installation Condition Report (EICR).
We also offer supplementary services, such as:
Identification and labelling of distribution boards

Distribution layout schematic

Labelling and identification of circuit accessories (switches, sockets, etc.)

Labelling and identification of sub-main and main cables

Earthing layout schematic
What types of buildings do we test?
We can handle all types of periodic inspection and testing, working with:
Businesses

Offices

Retail premises

Schools and universities

Warehouses and factories

Clinics and hospitals

Sports and fitness centres

Domestic homes, apartments, housing blocks – and much more!
Periodic Electrical Inspection for commercial premises
At Hexo, we specialise in periodic electrical inspection for commercial premises in London and the Southeast, so whether you own an artisan coffee shop, an array of warehouses or an office block, we can ensure your property is electrically safe and compliant.
We can also work around you, attending your property at a time that suits your business hours and your staff. Remedial works can also be arranged for out of hours appointments on the weekends or evenings to avoid disruption.
Periodic Electrical Inspections in London
We offer Commercial EICR and Domestic EICR services in London and the Southeast. We can organise any remedial works in a timely manner and offer fast certificate turnaround times.
As one of the London's leading electrical testing companies, we're here to support you and make the process of being electrical safety as smooth as possible.
Every service that we offer is performed with care and attention, and in compliance with COVID-19 protocols. We do our best to make sure that we bring peace of mind and ease of operation to your business.
How much does a Periodic Electrical Inspection cost?
So how much does a Periodic Electrical Inspection cost? Well, for domestic properties, the cost of an Electrical Installation Condition Report is based on the size of the property and prices start at £110+VAT for a studio apartment.
However, for a Commercial EICR, prices are based on the number of circuits in the premises. If you have access to a previous EICR report or images of your distribution boards then we can count the circuits for you and give you a fixed price. Otherwise, in most cases we can arrange to visit your site and count the circuits.
We can provide a full breakdown of EICR costs, so there will be no nasty surprises, and you can contact us to get a bespoke quote. Prices for our Periodic Electrical Inspections in London and the Southeast can be found here.
To find out more, get in touch with us by emailing info@hexoelectricaltesting.co.uk, or calling 0207 315 4151.