Business Owners: What You Need To Know About Electrical Compliance
As a business owner there is quite a lot to consider and keep on top of when it comes to electrical compliance and electrical safety in the workplace.
All your electrical systems need to be maintained to a safe condition so that you're legally compliant, and here we outline the main areas of responsibility.
BS 7671
All business premises fixed electrical installations must be compliant with BS 7671, the national standard for electrical installations. The certificate needed to show compliance in this area is the Commercial EICR. 
PAT Testing
Additionally, all appliances that are provided for use by staff/visitors must be tested for electrical safety.
This is called PAT Testing or Fixed Appliance Testing and comes under The Electricity at Work Regulations 1989. Also, emergency light testing is required under BS:5266 and fire alarm testing is required under BS:5839.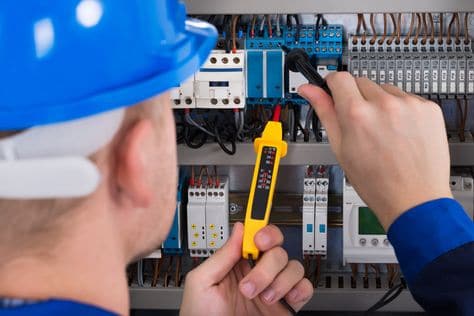 Achieving Compliance
Commercial EICR – BS:7671
We attend most business premises every five years (depends on your business type) to carry out a Commercial Electrical Installation Condition Report.
We inspect and test all the distribution boards, accessories, and wiring by way of visual inspections and dead/live electrical testing.
Any defects that are identified are highlighted on the EICR report. They range in severity and are as follows: Code C1, C2, C3 and FI.
How to rectify any issues
If defects are discovered, remedial works will be needed to rectify the problems. To ensure your business is compliant with BS 7671 you must repair any C1 faults immediately, and any C2 and FI faults without delay.
C3s are recommendations for improvement but do not affect the outcome of the EICR Satisfactory/Unsatisfactory.
We offer a full remedial works service and we automatically send you a remedial works quotation with your certification so that you can easily see what is needed and order if you wish.
Appliance testing – The Electricity at Work Regulations 1989
We usually attend most workplaces every year to carry out PAT Testing and usually every three years to carry out Fixed Appliance Testing.
We prepare a PAT Register that contains details of all your appliances and the result PASS/FAIL. Like the EICR the frequency of testing does depend on the type of business you have, more details can be found here.
Emergency Light Testing – BS:5266
This is usually an annual visit to carry out a duration test and inspection of the emergency lighting system to make sure that it is functioning correctly and that it's compliant with current regulations.
It's important to ensure the system functions for 3 hours on mains failure to give time for the occupants to safely exit the building and time for the emergency services to enter the building and help if needed.
If electrical remedial works are needed we will send you a quotation for these repairs and then revisit to bring the installation up to standard.
Benefits of electrical testing for businesses
The most important benefit of electrical testing for businesses is the peace of mind that comes from knowing your electrical installations and appliances are safe to use for anyone on the premises.
Being proactive about booking regular electrical tests will also reduce the cost of callouts if electricals suffer serious faults and potentially cause major damage.
Therefore frequent testing will not only prove your electrical compliance but will also help to reduce the amount of callouts for electrical faults and minimise the risk of major damage.
How We Can Help
We can carry out your inspections at a time that works best for you and your business.
We try to carry out inspections with a minimum of disruption, but we do have to turn off the power and isolate the emergency lighting, so we offer weekend appointments to help reduce this inconvenience for your business. 
Along with our competitive electrical testing costs, we also offer special packages when all services are ordered so please contact us today to request your quote.