At Hexo Electrical Testing we offer an Electrical Thermographic Survey service to our commercial clients. A thermographic survey is usually used to supplement regular EICR testing, and the recommended frequency is once per year.
Why have a thermographic survey?
An electrical thermographic survey carried out by a skilled electrical inspector will identify any unusual hot spots in the fixed electrical installation. 
It does not require any down time for the business as the survey is performed live and under normal operating conditions, so nothing is turned off. In fact, we need the installation to be under load so we can detect any issues using an electrical thermal imaging camera. 
A thermographic survey should be carried out once per year between EICR testing intervals.
Reliable Service with 100% Satisfaction
It's always perplexing to find services online and pick the right one, regardless of reviews. I can vouch for Hexo, who was professional and timely from the day of my first enquiry, very patient and helpful working around my difficult schedule. They had a long and difficult task to do with a 3 phase board, managed to have all the spare parts with them, and their team executed in a timely way, with patience and kindness. I definitely recommend them!
Very efficient and responsive team. Pleased to have chosen Hexo to do our testing and remedial electrical work in our flat.
Great professional, efficient service. The engineer was very knowledgeable and explained what he was doing and why. The administration too was first rate. Very happy to recommend HEXO and use them again.
Very fast response to my request for an EICR, and very good quality workmanship in carrying out necessary remedial works.
Thank you for a great service. We had a list of jobs All the jobs listed completed speedily and to spec. Will be going back to get the lights fitted with them Highly recommended. Without hesitation Friendly professional service, wasn't over bearing or adding on bits
Hexo was very good and efficient . I needed EICR for one of my properties. Hexo was able to rectify all required works and complete in timely manor at competitive rate . Work completed to high standard and satisfactory certificate provided upon completion of works. I can highly recommend them for all electrical works. Max was particularly helpful and communicative.
I hired Hexo to complete a simple EICR job and quickly through their incredibly thorough engineer found I had some serious electrical floors around my property. The engineer was superb, explained all the work clearly and was very efficient. I also found the booking process / administration highly efficient and informative when I had questions. A very impressive experience and job well done
What is checked during an electrical thermal imaging survey?
Areas that will usually be checked are:
Distribution boards

Bus bar chambers 

Switchgear 

Contactor enclosures 

General enclosures and junction boxes
Typically, the survey will highlight any:
Loose connections

Overheating circuit breakers or fuses 

Abnormal loading 

Overheating distribution equipment
What happens after an electrical thermal imaging survey?
If any issues are detected, then we can undertake remedial work and rectify the problems to make the installation safe.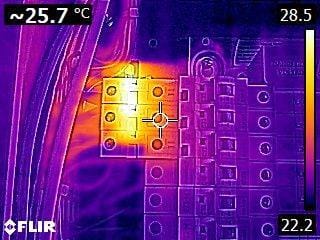 The process is quicker and much less disruptive than EICR testing but should be undertaken in conjunction with a regular Commercial EICR.
It's an excellent way to maintain a safe fixed electrical installation, and in most cases insurance companies will reduce premiums if thermographic surveys are undertaken, as the risk of an electrical fire is reduced.
Who needs a thermographic survey?
An electrical thermographic survey is recommended for all commercial premises and businesses as it is an excellent way to be vigilant and reduce risk of dangerous electrical defects.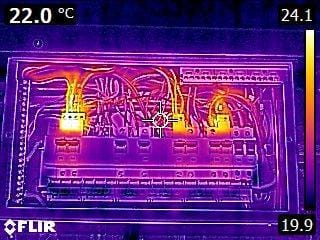 Your insurance company may insist that you have a survey undertaken, or one may be incentivised by a reduction in premiums as it is a recognised method of reducing electrical incidents.
How much does a thermal imaging survey cost?
Electrical thermal imaging survey costs depend on how many items we will be inspectin
g. As we are an electrical inspection and testing company, we do not require a separate competent person to open the electrical items for us, so there will be no additional costs by using us.  
Please contact us to discuss your requirements and we will provide you with a fixed price for your electrical thermographic survey.
How often should a thermographic survey be carried out?
It is recommended that a thermographic survey is carried out once per year, in between a regular Commercial EICR. 
Is there any disruption?
There is minimal disruption as because we use an electrical thermal imaging camera, we do not need to isolate any electrical supplies, so all power will remain on.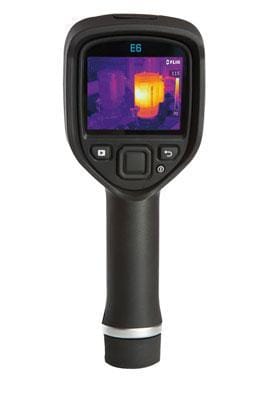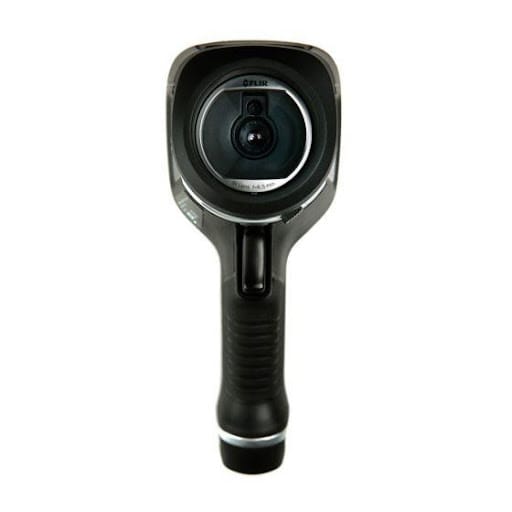 We will need to gain access to every piece of equipment that is to be inspected and then open this equipment to perform the thermal imaging survey. 
How to book?
To make a booking or to ask any questions about our electrical thermographic surveys please request a quote and we will be happy to assist. 
Info@hexoelectricaltesting.co.uk   
0207 315 4151