Electrical testing for landlords
Landlords should not overlook the importance of electrical testing. While being a landlord can be highly rewarding, it's not a role to be taken lightly and it's important to be aware of what electrical certificates for landlords are needed.
It's important to comply with the rules and regulations around electrical safety in the private rental sector, so that you provide a safe property for your tenants to enjoy and ensure you are complying with your legal obligations.
At Hexo, our qualified electrical inspectors will provide efficient and reliable electrical testing for landlords, and we offer a landlord electrical safety certificate cost that's affordable.
Quick & Easy Online Booking System
Competitive, Clear, Fixed Prices
Prices from £110 exc. VAT
Automatic Quotation for any Required Remedial Work
Fast Certificate Turnaround (Express Available)
No Penalty Cancellations up to 72 Hours ahead
Free Satisfactory EICR after Remedials
£5 Million Public Liability Insurance
Experienced, NAPIT Approved Inspectors
Covid-19 Safe and Secure
PAT Testing Available at Booking Stage
Contact Us for Discounts on Multiple Properties
We Can Contact Your Tenant or Agent
Certified Compliance for Legal and Insurance Needs
Reliable Service with 100% Satisfaction
Jennie Barham
5. January, 2022.
Very helpful and easy to work with, we needed to make several repairs to improve our EICR report and they explained everything on the report and what they'd do, and scheduled in the work quickly. The electrician was friendly, professional and left the house in excellent condition.
Natalie Hill
21. December, 2021.
Really responsive and flexible to fit in a job that we needed doing at incredibly short notice (same day!) Proactive, communicative, professional and really helpful. Really clear and easy to understand pricing, and the online invoicing system was a total dream (which is definitely not always the case!) and allowed me to quickly pay invoices while I was running today and so meant I didn't hold anything up. The whole service today was outstanding - thank you.
Heather Heber Percy
19. December, 2021.
Right from the beginning with the first phonecall to the completion of all work necessary for an electrical certificate, they were professional and courteous. It wasn't cheap but I paid for a quality service which seems to be a rarity in today's world. Well done Hexo
Genghis Borkwood
28. July, 2021.
Big shout at to Robert Gough at Hexa services he got me a great job. Got me a job for life.
Katie Wimpenny
16. March, 2021.
I had a fantastic experience with Hexo. They responded very quickly to my enquiry email and followed up with an email. They then had an engineer with me by the same afternoon. The two men I dealt with were so incredibly friendly, helpful, reassuring and informative. I intend to use them again in future. Highly recommend.
Noel Wilson
12. March, 2021.
inspected my property,,very happy with the engineer,very thorough,,thanyou
Murat Nuriyev
10. March, 2021.
Nice service. Very responsive and helpful staff. Will use them again.
Swaran Dhaliwal
7. March, 2021.
I enquired about the EIDR check and was given a fix price. They arranged appointment with my tenant and fixed the date They attended at the appointed date and completed the test. Job well done. I will definitely use then again as the price was reasonable too
Kate Cordell
2. March, 2021.
I needed an urgent EICR for my rental property and Hexo stepped in when I was let down by my usual supplier. They gave me a good quote, that they stuck to - no unexpected extras unlike some, turned up on time and stayed in touch. I needed some subsequent work done and again, great communication, a fair quote and the work was done on time and to a great standard. Would recommend and will use again.
Do landlords in London need an electrical safety certificate?
Landlords in London and across England have a legal responsibility to ensure that the electrical installations in their properties are safe. For private-rental properties, it is the landlord's responsibility to have regular electrical testing undertaken and any required remedial works carried out.
This is all part of the EICR process whereby an approved electrical company carries out a domestic EICR, then undertakes any necessary remedial works and issues the landlord with a Satisfactory EICR that lasts for 5 years. 
EICR certificate landlord regulations
A satisfactory landlord EICR certificate is a legal requirement for private rental properties, so yes, landlords in London do need an electrical safety certificate.
Landlord Electrical Safety Certificate
When it comes to Landlords Electrical Safety Certificates it's important to obtain the correct documentation. The required documentation is a Satisfactory Domestic Electrical Installation Condition Report. 
Because it is the landlord's responsibility for electrical testing in rental properties, having a Landlord Electrical Safety Certificate will not only mean you're legally compliant, but it will also provide the peace of mind for your tenants that they are occupying a safe property.
Is the Landlord Electrical Safety Certificate a legal requirement?
New Government regulations came into force on 1st June 2020 regarding electric certificates for landlords.. These regulations make it mandatory for landlords within the private rented sector to have their electrical installations tested every five years.
However, more frequent testing may be required for older installations. Additionally, upon change of tenancy within 5 years a visual inspection is required.
Furthermore, any electrical equipment provided under the terms of the lease should be PAT or FAT tested.
Which properties need a landlord safety certificate?
If you're asking the question "which properties need a landlord electrical safety certificate?", then the answer is here. If you own domestic properties that you lease out to others, such as HMOs, then you will need a Domestic EICR.
This applies to all properties within the private rental sector, including:
Terraced houses

Single homes

Flats and apartments

HMOs (Houses of Multiple Occupancy)

Our services for landlords
We offer comprehensive inspection services, same day remedial works upon prior agreement, and electrical safety tests for landlords across London and the Southeast. So, you can rest assured that your properties will be kept up-to-date with current safety standards.
With all electrical certificates for landlords, our inspectors and engineers are fully trained, insured, and qualified to ensure we provide you with the quality service you need to guarantee that your property is thoroughly safe. If you're looking to buy or sell a house, then it's advisable to arrange a homebuyer's electrical report.
What electrical certificate do landlords need?
We provide all types of landlord electrical certificates. We believe every person deserves a safe place to call home. Inspection and testing against current safety standards, through a landlord EICR certificate, is the only way to ensure this.
Each year, electrical faults trigger more than half of all accidental household fires. Not only do these pose a huge threat of injury and to life itself, but a fire can also devastate a family with the loss of personal items.
All in all, avoiding any type of major incident within a home should be of paramount importance, and having a landlord electrical safety certificate is a crucial part of ensuring safety. We offer several types of electrical landlord certificates, including:
EICR / Domestic Condition Reports/ Landlord Electrical Safety Certificate
An Electrical Installation Condition Report (EICR certificate for landlords) identifies any defects with the fixed electrical installation within a building. One of our electrical inspectors will attend and carry out the EICR visit which highlights any damage, defects, or non-compliances with the sockets/switches, wiring, and consumer units.
We will then provide an itemised quotation for any remedial works, and once you instruct us one of our experienced engineers will visit and carry out the repairs to make the property compliant.
A landlord electrical safety certificate can be arranged at a time to suit you and your tenants.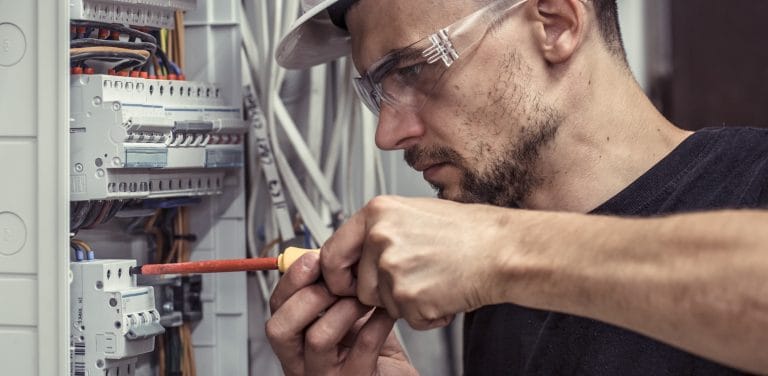 Landlord PAT Testing
As well as a landlord EICR certificate, you may need to arrange PAT Testing. While this is not a legal requirement, it is a legal requirement for landlords to maintain the electrical appliances they provide as part of the lease.
PAT testing checks the electrical condition and safety of portable electrical appliances such as a kettle or a toaster. We will provide you with a PAT Register which details the Pass/Fail status of the appliances tested.
Landlord FAT Testing
As well as an EICR and PAT certificate, you may also need FAT Testing carried out at your rental property. FAT Testing checks the electrical safety and condition of any fixed appliances in the property such as a hard-wired electrical hob or an electrical water heater.
These appliances usually have an isolator or switch on the wall near where they are located, and FAT is usually a more complex process than PAT Testing.
Consumer Unit Upgrades
A consumer unit is a modern name for the fuse box in a property. The consumer unit is the main control and safety device for the property's electrical supply. It is the point at which the electrical supply is divided into separate circuits in the property and where circuit protective devices are provided.
Out-dated fuse boxes can be life-threatening. Therefore, it's important for landlords to be aware of the age and current condition of their property's fuse box and consider a consumer unit upgrade if necessary. We can confirm if your fuse box or consumer unit is compliant as part of our EICR process.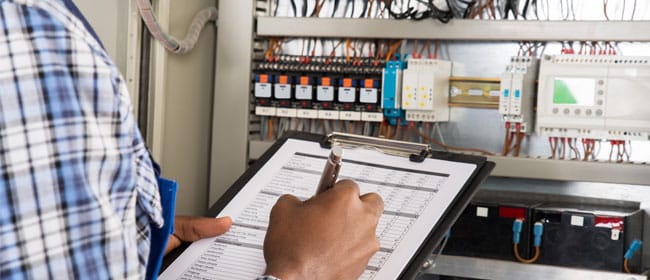 We offer consumer unit upgrades as part of our remedial works service. All our consumer units are installed compliant with BS7671:18th edition and we offer different levels of consumer unit where an option is appropriate, such as surge protection, RCBO protection, and Arc detection.
Residual Current Devices
All new consumer units offer RCD protection either by way of Dual RCD Protection, RCBO protection, or combined Arc/RCBO protection. RCD is an acronym for Residual Current Device. 
The RCD device operates (trips) if an earth fault occurs, thereby cutting off the power within the required disconnection time of either 40 milliseconds or 200 milliseconds dependent on the fault current. The RCD will cut the power much more quickly than an MCB (Miniature circuit breaker) which therefore reduces the risk of fire or danger to life as a result of the fault.
Types of RCD protection
If you have dual RCD protection in your new consumer unit then you will typically lose power to half of the circuits in the consumer unit even if the fault is only present on one circuit. Whereas if you have RCBO or Combined Arc/RCBO protection then only the faulty circuit will be disconnected, and the rest will remain energised.
Your Hexo Electrical Testing engineer can upgrade your consumer unit to ensure it offers the necessary protection and complies with current safety standards. We can advise of all options around upgrading your consumer unit. Please request a quote.
How much does a London landlord EICR certificate cost?
Our Domestic EICR prices start at £110+VAT for a studio sized property with up to 10 electrical circuits. If you need any help checking how many circuits you have, then please contact us. Additional circuits are charged at £10+VAT each.
All electrical safety test landlord prices
Our full range of landlord electrical safety certificate costs can be found here and it's easy to make a booking. If any electrical remedial work is needed, we can provide costs and a suitable schedule once the landlord EICR certificate has been issued.
Booking your landlord electrical certificate London
We can handle the booking of all jobs with individual tenants and offer lower rates for multiple properties, making electrical testing for landlords even easier. Plus, with fast certificate turnaround times, you can sit back and let us take care of your properties and your tenants.
With us, London landlord EICR certificates are nice and straightforward.
Landlord electrical safety certificates and electrical remedial works
When it comes to issuing landlord electrical safety certificates and carrying out necessary electrical remedial works, we've got you covered. Under the Electrical Safety Standards in the Private Rented Sector (England) Regulations 2020, landlords have 28 days to arrange repair works.
For landlords with a large portfolio of properties, we can set up a schedule of remedial rates and can complete remedial works on the very same day. This reduces the number of bookings needed and minimises disruption for your tenants.
Why choose Hexo for London landlord electrical certificates?
At Hexo, obtaining a landlord electrical certificate is easy and affordable.
We have many years of experience providing professional electrical inspection and testing services to landlords and businesses in London and the surrounding areas. Our inspectors receive the highest standards of industry training and complete specialist training modules in electrical inspection and testing.
You will be in very safe hands when you choose Hexo for your landlord EICR certificate in London. We have the skills and expertise to efficiently inspect and if required upgrade and repair your electrical installation so that it is safe and compliant.
Want to know more about our landlord certificates London?
Learn more about our electrical testing for landlords and find out how much a landlord electrical safety certificate costs by contacting our friendly team today or make an online booking.
Book electrical testing for landlords today
We offer an online booking system for our Domestic EICR service which is what you need as a landlord in London. Prices start at £110+VAT and you can add PAT testing at the booking stage if you wish. 
By hiring us you can ensure that your property's electrical safety standards are always met. To find out more about electrical testing for landlords, get in touch with us by emailing info@hexoelectricaltesting.co.uk, or calling 0207 315 4151.