PAT testing London and surrounding areas
If you're a business owner or a landlord, then you are responsible for maintaining the health and safety of your premises, which includes the testing of the electrical equipment within it.
Our PAT testing London services are therefore the best way to ensure health and safety standards are maintained to a high degree.
PAT testing regulations
You should follow certain guidelines to ensure you are compliant as there are clear legal requirements in place. The Electricity at Work Regulations 1989 stipulate that electrical equipment should be regularly checked to ensure that it is safe to use.
By choosing Hexo to conduct PAT testing in London, you can be sure that you'll be compliant with these regulations with regard to your electrical appliances.
Portable Appliance Testing for Business and Landlords
Certified Compliance for Legal and Insurance Needs
Competitive, Clear, Fixed Prices
Discounts Available when booked with EICR
Covid-19 Safe and Secure
Out of Hours Service Available
No Penalty Cancellations up to 72 Hours Ahead
PAT Register Included
No Disruption or Downtime
Reliable Service with 100% Satisfaction
It's always perplexing to find services online and pick the right one, regardless of reviews. I can vouch for Hexo, who was professional and timely from the day of my first enquiry, very patient and helpful working around my difficult schedule. They had a long and difficult task to do with a 3 phase board, managed to have all the spare parts with them, and their team executed in a timely way, with patience and kindness. I definitely recommend them!
Very efficient and responsive team. Pleased to have chosen Hexo to do our testing and remedial electrical work in our flat.
Great professional, efficient service. The engineer was very knowledgeable and explained what he was doing and why. The administration too was first rate. Very happy to recommend HEXO and use them again.
Very fast response to my request for an EICR, and very good quality workmanship in carrying out necessary remedial works.
Thank you for a great service. We had a list of jobs All the jobs listed completed speedily and to spec. Will be going back to get the lights fitted with them Highly recommended. Without hesitation Friendly professional service, wasn't over bearing or adding on bits
Hexo was very good and efficient . I needed EICR for one of my properties. Hexo was able to rectify all required works and complete in timely manor at competitive rate . Work completed to high standard and satisfactory certificate provided upon completion of works. I can highly recommend them for all electrical works. Max was particularly helpful and communicative.
I hired Hexo to complete a simple EICR job and quickly through their incredibly thorough engineer found I had some serious electrical floors around my property. The engineer was superb, explained all the work clearly and was very efficient. I also found the booking process / administration highly efficient and informative when I had questions. A very impressive experience and job well done
Your PAT testing responsibilities
As a business owner or landlord, not only are you responsible for the physical building, but also the type of electrical equipment inside the premises. 
You are to a degree responsible for the health and safety of those who live in, work at, or visit the premises, whether they be tenants, customers, suppliers or even delivery drivers, which is why PAT testing in London and across the UK is so important.
PAT testing companies London
The best way of discharging your duty with regards to the health and safety around electrical equipment is by engaging a PAT testing company in London such as Hexo Electrical Testing to carry out regular Appliance Testing.
Finding a PAT tester in London doesn't have to be a chore when you choose Hexo Electrical Testing.
What is an appliance register?
Upon completion of the testing, you will be issued with an appliance register that details each appliance tested and whether they are safe to use or not.
The appliance register could be used as evidence to show that you have done your upmost to ensure the safety of the electrical equipment in your premises.
Why is PAT testing important?
To protect your assets and help ensure the safety of the people that use your premises, the electrical systems of the building must be thoroughly and regularly inspected and maintained, this includes electrical equipment within the building. 
PAT Testing is short for Portable Appliance Testing and covers all electrical equipment that is portable or stationary and has a 230 volt plug top that plugs into a wall socket.
How is PAT testing different from fixed appliance testing?
Fixed appliance testing should be carried out on all hard-wired equipment that does not connect to the electrical installation by means of a plug top.
The equipment may be connected to the mains by means of an isolator or a switch instead. 
The difference between PAT testing and fixed appliance testing
While PAT tests can be conducted by competent members of staff in low-risk environments, they would need the correct technical equipment, and the knowledge to properly interpret the results.
It is unlikely that Fixed Appliances could be tested by an in-house member of staff as the testing process is more involved compared to PAT Testing.
Usually, businesses and landlords engage the services of an electrical testing company/PAT Testing company to carry out all Portable and Fixed Appliance Testing.
What is PAT testing?
PAT Testing or Portable Appliance Testing (PAT Test) is done to verify the safety of every single appliance within the building that connects to the mains electrical installation.
What does a PAT engineer test?
Our PAT engineer will visually inspect and then test each appliance, and record the results in a register. A sticker will be fixed to each appliance to show that it has been PAT tested.
If any items fail then we will show these items to the client, the failed items must not be used and must be removed from service immediately.
What is the purpose of PAT testing?
The purpose of PAT testing is to verify that electrical appliances are operational, and in a safe condition to use, and are expected to be for the foreseeable future.
You can also read more about the importance of PAT testing in London and the UK.
PAT testing categories
There are three main categories of items that should be subjected to regular Appliance Testing:
Portable or movable equipment

Any appliances which are stationary

Fixed/hardwired equipment and appliances
What items should be PAT tested?
All 230 volt electrical appliances in a work place or rental accommodation should be PAT tested to ensure that they are in a safe condition for use. 
The following list shows some typical items of electrical equipment that should be PAT tested:
PCs and monitors

Printers and photocopiers

Kettles, microwaves, and toasters

Fridges and vending machines

Heaters and radiators

Power tools, such as electric drills

Table and floor lamps
Washing machines and vacuum cleaners

Multi-way adaptors

RCD extension leads and RCD adaptors

Extension leads

Hairdryers

Ovens and grills

DC Power supplies
Why do you need to conduct commercial PAT testing?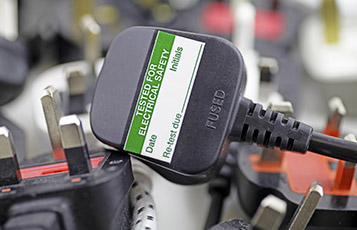 Business owners have a duty of care to ensure their employees and visitors are safe.
Furthermore, any business owner will also want to protect their assets – the building, machinery, and equipment within it – and any stock or items used in operating the company.
The benefits of PAT testing
Faulty electrical wiring and equipment is responsible for a staggering number of accidents, so maintaining the condition of all the electrical systems and appliances is crucial.
Not only to protect the health of the people within the building, but also to protect the business owner from liability.
PAT testing legal requirements
If an incident such as a fire occurs and you cannot show a proper record of safety checks conducted, you may be found liable. Your business insurance may also be void if you are found to have neglected basic safety measures.
Legally speaking, an employer must make sure all the electrical items within their business are effectively maintained; PAT testing is a method of achieving this.
Aside from the legal obligations, there is of course a moral and ethical obligation to protect lives.
Is PAT testing a legal requirement for landlords?
If you're a landlord and you provide electrical appliances for your tenants to use, then you are legally responsible for the maintenance of these electrical appliances.
If a problem should occur, such as a fire, or a tenant gets an electric shock from an item, you may be liable if you cannot prove that you have properly maintained your electrical appliances.
PAT testing London regulations
Portable appliance testing in London is one way to maintain your electrical appliances and check they are safe for use.
We offer PAT testing for landlords in London and the South East, including visual inspections and comprehensive testing of all portable electrical and fixed appliances. Approval stickers will be affixed, and an official PAT register will be produced.
What happens during PAT testing?
During a PAT inspection and test, we check all electrical appliances in your premises to make sure they are electrically safe. We will visually inspect and electrically test each appliance to ensure it is safe for use.
Our PAT engineers can go into each room in your premises and test all available appliances, or you can provide us with a list of appliances that you require us to test and make these appliances readily available for our engineers.
What other electrical tests could be needed?
PAT Testing is a safe practice that ensures compliance when it comes to electrical equipment. Insurance companies may also require regular PAT testing and EICR testing, which we can also assist with.
Conducting a PAT test
To conduct a PAT Test, the first stage is a visual inspection of the item and the plug top. This allows the appliance test engineer to determine the overall visual condition of the item, its power lead, and plug top.
Problems may be immediately obvious such as a frayed power cable or a cracked or overheated plug top.
What are the different stages of a PAT test?
If the visual condition is acceptable, then the next stage is to carry out the electrical tests, these include:
Functional operation

Earth continuity

Insulation Resistance

Earth Leakage
If any of the inspection or tests fail, then the item fails. It may be possible to repair the item, or the item may need to be thrown away and a replacement purchased.
PAT testing equipment
It's usually the case that there is a basic pass or fail result given if the PAT test is carried out by a trained member of the business.
However, when you use a specialist PAT Testing service, such as the one provided by Hexo Electrical Testing, a great deal of additional information and data will be provided, so the issue itself can usually be defined and rectified.
What PAT testing equipment do we use?
To ensure PAT tests are completed as accurately as possible, the engineer from Hexo Electrical Testing will use only the very best PAT Testing equipment. All our PAT testing equipment is regularly calibrated.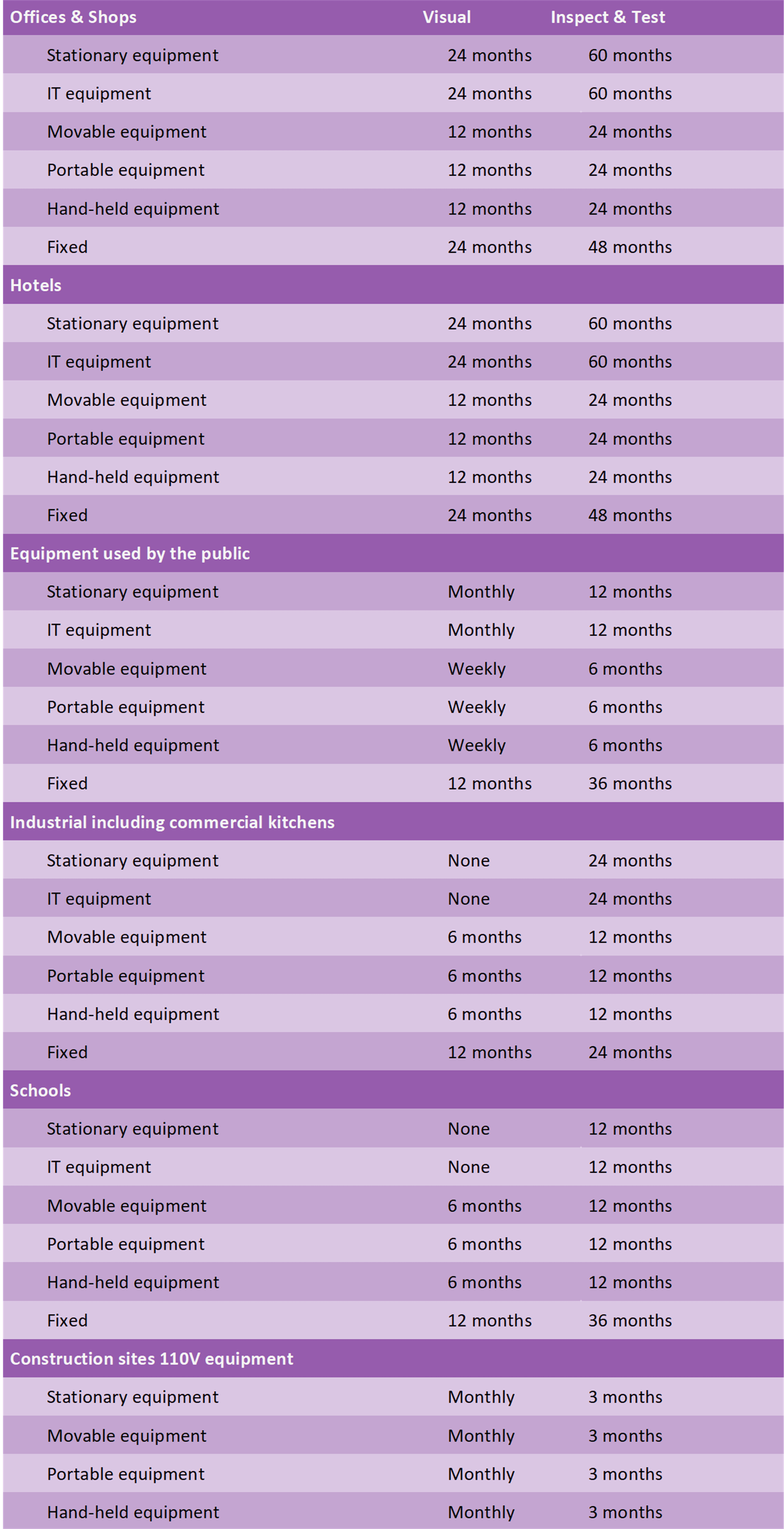 How often should PAT testing be carried out?
Depending on the type of equipment you own, and the environment in which it is used, the recommended frequency for PAT testing in London will differ. Generally, electrical appliances in low-risk environments, such as offices and hotels, should be PAT Tested once a year.
PAT testing frequency for landlords can also depend on the property, but it is recommended to have all appliances PAT tested before a new tenant moves in.
PAT testing frequency for higher risk premises
Higher risk premises, such as construction sites, will need PAT Testing carried out far more frequently, typically every 3 months. 
Business owners are encouraged to take a risk-based approach to such matters and there is currently no formal requirement as to the frequency of PAT Testing. However, recommendations are made in the IET Code of Practice, and these are shown in the table to the right.
PAT testing frequency for other businesses
Most businesses (apart from higher risk) opt to have their portable and stationary appliances PAT tested once per year by a specialist company by way of a full inspection and test, if visual checks are recommended within a year, then usually the business designates a member of staff to carry out this function.
Fixed appliances usually need to be fully tested only once every 3 years with visual checks in the interim.
PAT Testing Classes
There are three classes of PAT Testing for electrical equipment:
Class 1 includes appliances with basic insulation that rely on earthing to provide protection against electric shock in the event of a fault. Examples of these include kettles, toasters, fridges, and photocopiers.
Class 2 appliances benefit from extra insulation and don't solely rely on earthing for protection against electric shock in the event of a fault. These include the likes of some floor lamps, TVs, internet routers.
Class 3 items are extra low voltage and therefore safer still. They include items such as cameras and laptops.
What do we look for during A PAT test?
During a PAT Test we visually check for signs of damage due to wear and tear, misuse, electrical damage. We then carry out a series of electrical tests to check the quality of electrical wiring and components.
Visual inspection – we will look at all portable appliances for signs of damage, including flex and plug tops
Fuse and connection inspections – a thorough examination of the wiring and fuse within every plug
Electrical appliance testing – each appliance will be submitted to a series of electrical tests to ensure that it is properly earthed (Earth Continuity Test, Class 1 appliance) and insulated (Insulation Resistance Test, Class 1 and 2 electrical appliances) as well as earth leakage tests.
Labelling – we will affix a label to all electrical appliances, indicating whether it has passed or failed, as well as additional information including the test date, re-test date and the Appliance ID number assigned to it
Records – we will provide a detailed record for each appliance tested

, as well as an inventory summary/PAT Register. These records will also be available in an electronic format.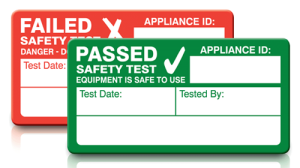 PAT testing in the workplace
Whilst not a legal requirement as such, PAT Testing is strongly advised to keep your workplace safe by maintaining due diligence over the safety of your electrical equipment.
The expectations per industry are laid out below:
Offices, shops and hotels
All Class 1 test equipment should be tested every two years. This includes stationery and IT equipment. Anything movable, like extension leads or portable equipment, should be tested at least every 24 months.
Any handheld equipment should be tested every 12 months as a minimum.
Public use equipment
Any moveable, portable or handheld equipment within the Class 1 category should be tested every 6 months as a minimum.
Stationery and IT equipment (e.g. computers) should be tested every 12 months, and any Class 2 category movable, portable or handheld equipment should be tested every 12 months.
Schools
Any test equipment falling within the Class 1 category should be PAT tested every 12 months in schools, as an absolute minimum. All Class 2 type equipment should be tested at least every 48 months.
Construction
All 110V equipment used on building sites should be inspected and tested every 3 months as a minimum.
Industrial
Any type of industrial sites, including commercial kitchens, should have their portable and handheld equipment tested every 12 months. IT equipment, stationery equipment or anything movable should be tested every 12 months.
Why choose Hexo Electrical Testing for your PAT testing?
We can carry out PAT Testing at weekends and in the evenings, to prevent disruption or business downtime.
We can also arrange to test all appliances in one go, or schedule them in batches across a given time period. We aim to keep London PAT testing costs low and make it work for you and your business.
What other electrical testing can we provide?
In addition to PAT testing in London, we provide a full range of electrical testing services, and we can test your Fixed Appliances as well as your portable/stationary appliances.
Our expert engineers have unmatched understandings of how to find safety defects during inspections and they use the latest electrical testing equipment and accessories manufactured by Megger®.
Our PAT services across London and Greater London
We offer our PAT services across all parts of London and Greater London.
We are experts in all types of electrical appliance testing, including portable appliance testing and fixed appliance testing, for both commercial and residential premises.
PAT Testing regulations compliance
As an experienced PAT testing company in London, we deliver a high-quality service and aim to help you comply with the Health and Safety Executive (HSE) and Electricity at Work Regulations 1989.
We work hard to ensure our service works well for you and we work flexibly to reduce disruption.
PAT Testing South London and East London
Whether you need PAT testing in South London, PAT testing in East London, or any other location in London, we'll provide the same rates wherever you are in the capital. Our PAT testing London prices will depend on how many of your appliances need testing.
PAT testing prices London and the South East
Our PAT testing prices London are displayed online and it's easy to make a booking.
For rates outside London and the South East, please contact us for a bespoke quotation.