When it comes to obtaining an electrical certificate of compliance, there are certain things you should know. Thanks to the Electricity at Work Regulations 1989, employers have a legal obligation to protect their premises and their staff from potentially hazardous electrical situations.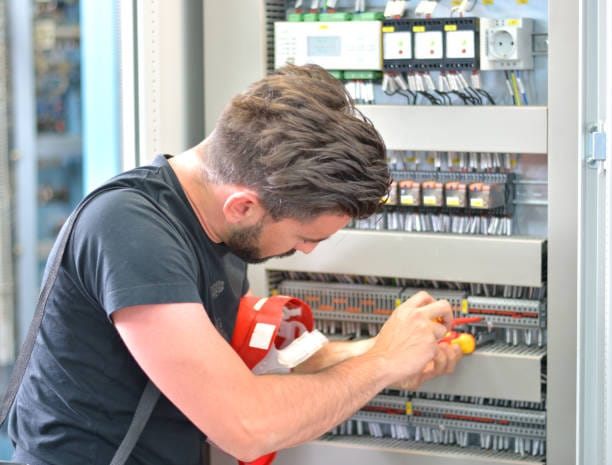 Basically, if you own a business and hire staff, or if you rent out homes to tenants, you will need to ensure the property is safe to use. For most business owners and landlords, the most frequent electrical certificate of compliance will be PAT testing.
This involves the inspection and test of electrical appliances and is usually carried out once a year.
Types of Electrical Certificate
There are numerous types of electrical certificate for office electrical testing and electrical safety for landlords. These include:
PAT Testing
PAT Testing or Portable Appliance Testing (PAT test) is essential. It ensures the appliances in your rental property or business premises are safe to use.
Fixed Wire Testing/ Electrical Installation Condition Reports (EICR)
Fixed Wire Testing is also key to safety. Also known as hard wire testing and EICR, this is the process of inspecting your fixed electrical installations to ensure any potentially dangerous faults are repaired before they can cause harm.
Emergency Lighting Testing
Again, for business owners, and some landlords, Emergency Lighting Testing is essential. This test ensures the emergency lighting in your building works as it should, enabling people to exit the building quickly and safely in the event of a power loss.
The only real way to ensure electrical safety in the workplace is by arranging a thorough testing programme with a qualified team like Hexo Electrical Testing. We can set up a schedule that works for you and your company's needs, working at times to suit your business hours. Should any faults arise, we can rectify them quickly.
Electrical Certificate UK and London Requirements
There are certain electrical certificate UK and London requirements that you should be aware of. The Electricity at Work Regulations were passed in 1989, to help prevent injury or death caused by electrical faults in commercial environments.
Depending on your business and the building you operate in, the electrical certificate requirements differ. As a rule, you should arrange for all your electrical installations to be tested every five years for domestic properties and every five years for commercial properties.
Industrial properties should be inspected around once every three years. As for Portable Appliance Testing, this should be carried out anywhere between three months to two years.
How Much Does an Electrical Certificate of Compliance Cost?
So how much does an electrical certificate of compliance cost? Well, depending on the job and the size of your property, the price will vary. Yet at Hexo Electrical Testing, we're transparent about costs, to make sure there are never any nasty surprises.
Visit our Prices page for a full breakdown of EICR costs, as well as PAT Testing prices and Fixed Wire Testing costs, or contact us to get a bespoke quote.
We can advise you on your legal obligations, conduct the report and complete any necessary remedial work in a timely manner.
To find out more, get in touch with us by emailing info@hexoelectricaltesting.co.uk, or calling 0207 315 4151.
It's also incredibly easy to make a booking.