Hexo Electrical Testing is one of the UK's leading fixed wire testing companies in London and the South East, so you can be sure that your home or business is in safe hands with our team of trusted experts.
What is Fixed Wire Testing?
To ensure your property is electrically safe, an examination of fixed electrical installations is required. This type of fixed wire testing is often referred to as EICR (Electrical Installation Condition Report) and is particularly important in rental and commercial properties.
During a fixed wiring test one of our expert inspectors will check the fixed electrical system within a building to identify if there is any damaged wiring or faulty sockets and switches. An EICR certificate will be provided if no remedial works are required.
It's always perplexing to find services online and pick the right one, regardless of reviews. I can vouch for Hexo, who was professional and timely from the day of my first enquiry, very patient and helpful working around my difficult schedule. They had a long and difficult task to do with a 3 phase board, managed to have all the spare parts with them, and their team executed in a timely way, with patience and kindness. I definitely recommend them!
Very efficient and responsive team. Pleased to have chosen Hexo to do our testing and remedial electrical work in our flat.
Great professional, efficient service. The engineer was very knowledgeable and explained what he was doing and why. The administration too was first rate. Very happy to recommend HEXO and use them again.
Very fast response to my request for an EICR, and very good quality workmanship in carrying out necessary remedial works.
Thank you for a great service. We had a list of jobs All the jobs listed completed speedily and to spec. Will be going back to get the lights fitted with them Highly recommended. Without hesitation Friendly professional service, wasn't over bearing or adding on bits
Hexo was very good and efficient . I needed EICR for one of my properties. Hexo was able to rectify all required works and complete in timely manor at competitive rate . Work completed to high standard and satisfactory certificate provided upon completion of works. I can highly recommend them for all electrical works. Max was particularly helpful and communicative.
I hired Hexo to complete a simple EICR job and quickly through their incredibly thorough engineer found I had some serious electrical floors around my property. The engineer was superb, explained all the work clearly and was very efficient. I also found the booking process / administration highly efficient and informative when I had questions. A very impressive experience and job well done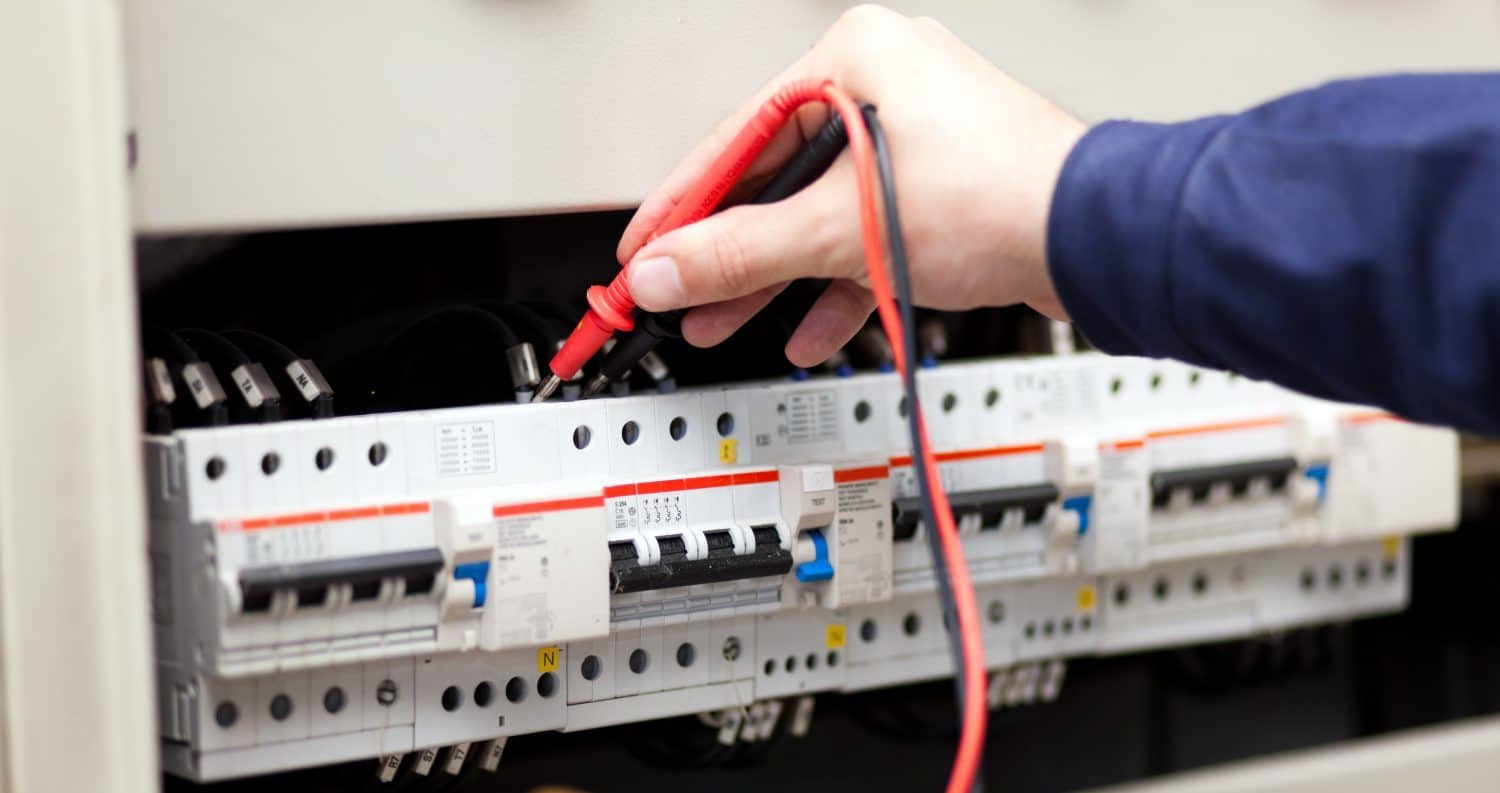 Fixed Wire Testing Prices
We know how busy life can get so we are available evenings and weekends to make fitting in a fixed wire inspection as easy and pain free as possible.
Our prices are based on the size of the property and the number of circuits within it:
Domestic Prices
| | | | |
| --- | --- | --- | --- |
| Type | Weekday 8am-5pm | Weekday Evening 5pm-10pm | Weekends 8am-6pm |
| Studio | £110 | £140 | £140 |
| One bedroom property | £120 | £150 | £150 |
| Two bedroom property | £130 | £160 | £160 |
| Three bedroom property | £140 | £170 | £170 |
| Four bedroom property | £160 | £190 | £190 |
| Five bedroom property | £180 | £210 | £210 |
| Six bedroom property | £210 | £240 | £240 |
*All prices are excluding VAT.
*These prices are for up to eight circuits in one property. Additional circuits, over eight, will be charged at £15 each plus VAT.
*These prices are for one consumer unit. Additional consumer units, over one, will be charged at £20 each plus VAT.
Commercial Prices
Service

Weekday

8am-5pm

Weekday Evening

5pm-10pm

Weekend

8am-6pm

Up to 10 circuits (prices start at)

£169

£209

£209

Each additional circuit (prices start at)

£10

£10

£10
Request a quote from us today. One of our friendly team will reply within the hour!
The Importance of Fixed Electrical Testing
Faulty electrics are one of the leading causes of fires within both commercial and residential buildings.
To protect your home and yourselves, it is vitally important to maintain your electrical systems and ensure that regular fixed wire tests are carried out.
For landlords of rental properties, it is also a legal requirement to obtain an EICR. Failure to do so results in fines of up to £30,000. Visit our landlord's page to get a quick and easy quote for a landlord's certificate. Commercial properties also need to follow legal guidelines to ensure the property's electrical safety.
What Happens During a Fixed Wire Inspection?
Our inspectors are highly experienced and will give an in-depth inspection of  each of the electrical installations at your property using the latest electrical testing equipment and accessories.
The electrical installations that will be tested during the fixed wire test include power sockets, lights, distribution boards, main panels, air conditioning and more.
Once the inspection is complete, you will be provided with an EICR certificate showing that your electrical installations have passed and are safe to use or, if the test result is unsatisfactory, you will be given a comprehensive coded observation for each and these will be shown on your EICR certificate. One of our experts will also provide a quotation to repair the defects and give advice on your options regarding the repair.
Fixed electrical testing does not include testing electrical appliances that are plugged in. This type of testing is called PAT (Portable Appliance Test) which is a service we are also happy to provide, usually for rental and commercial properties.
How Often Should Fixed Wire Testing Be Carried Out?
For residential homes, It's advised that fixed wiring inspections should be carried out regularly. This is quite vague guidance so we'd say that unless your property is very old or you've noticed tell-tale signs of electrical faults such as flickering lights or faulty switches you only need to get the fixed wiring tested every 10 years. 
However, there are laws in place for commercial and rental properties that advise a fixed wire test needs to be done more regularly, every 5 years for rentals and less for commercial. See our commercial EICR page to find out more on commercial fixed wire testing and read our blog on a Landlord's Guide To Electrical Safety.
Speak to one of our friendly team if you're unsure on whether your property is due a fixed wiring test.
What Happens If Your Fixed Wire Test Fails?
If your fixed wiring fails its electrical testing your EICR certificate will show where it failed using four different types of classification codes. These are:
Code 1 (C1): Danger present.

Risk of injury. Immediate remedial action required. These installations must be made safe immediately.

Code 2 (C2): Potentially dangerous.

Urgent remedial action required. These installations must be made safe as soon as possible.

Further Investigation (FI):

Further investigation required without delay. The electrical inspector will need to return to investigate the issue further

Code 3 (C3):

Improvement recommended. You do not need to get this fixed immediately.
A code C1, C2 or F1 will mean your EICR certificate will be marked as unsatisfactory. You will need to carry out remedial work to get any issues investigated and repaired.
One of our expert engineers will provide an itemised quotation for remedial works required.
After the repair works have been carried out, we will test your entire system again. This will ensure the maintenance has been completed successfully. 
It's quick and easy to get a quote with us for all your testing – send us details of your job and one of our team will be in touch with you with a comprehensive quote – within the hour!
Types of Remedial Work
Typical remedial works for fixed wire testing might include:
Replacement of circuits or distribution boards

Circuit repairs

Light fitting replacements

Socket and switch replacements

Damaged cable repairs

RCD installations

Earthing and bonding upgrades or installations

Circuit breakers and RCBOs

Protection around enclosures

Loose and damaged accessories
What Are The Benefits of Fixed Wire Testing?
Compliance
Did you know that the legislation regarding EICR reports has recently changed? Keeping up to date with amendments to the electrical regulations is important for well-performing safe installations; we will advise you of how compliant your installation is and recommend that if it is not fully compliant we carry out upgrades to make the installation fully compliant with the latest regulations and amendments.
It is not mandatory to be fully compliant with the latest regulations, but the installation must be deemed Satisfactory as a minimum. 
Safety
According to government statistics, outdated electrical installations and faulty electrical systems account for almost half of accidental UK house fires, and about four injuries a day. 
At Hexo Electrical Testing we can professionally check the safety of your electrical installation and repair any problems that may exist. Keeping your installation up to date will reduce the chances of an electrical dangerous occurrence.
Insurance
It is increasingly common that insurance companies require a Satisfactory EICR for property insurance cover to be provided. You may see that regular domestic electrical testing is required as part of your policy agreement.
The insurance company will probably want to know that the condition of the electrical installation in the property is Satisfactory. Regularly keeping up to date with electrical regulations will prevent an unexpected major upgrade in the future.
Save Money
Never procrastinate – the repairs may cost you more! Keeping your electrical system compliant is the best way of saving – issues identified early may prevent further damage. Being prudent and keeping on top of electrical repairs will save you money in the long run. Prevention is usually better than cure.
Speed Up the Selling Process
If you're selling your house, having an EICR certificate will give your buyer peace of mind and prevent any unexpected delays in the conveyancing process if a fixed wire inspection is requested.
Why Choose Hexo Electrical Testing?
We are one of the leading fixed wire testing companies in London and across the South East and we're here to support you and make the process of fixed wire electrical testing as smooth as possible.

Our friendly team can provide fast quotes for standard or bespoke fixed wire testing and remedial works and our experienced engineers can give you expert advice.

Our inspectors and engineers use cutting edge equipment and are available evenings and weekends to fit around your schedule.

We've been rated excellent on Google. Take a look at some of our 5* reviews at the top of this page.
If you have any questions at all, please feel free to speak to us today.
COVID-19 Protocols
Every service that we offer, including fixed wiring testing, is performed with care and attention and in compliance with COVID-19 protocols. We do our best to make sure that we bring peace of mind and ease of operation to your business.
All necessary precautions are taken and practised by our staff. 
Contact Us For Your Fixed Wire Testing Quote Today – and We'll Respond Within the Hour!
To find out more about residential or commercial EICR and staying up to date with fixed wire testing regulations in the UK, as well as any of our other services, please get in touch with us by emailing info@hexoelectricaltesting.co.uk, or calling 0207 315 4151.